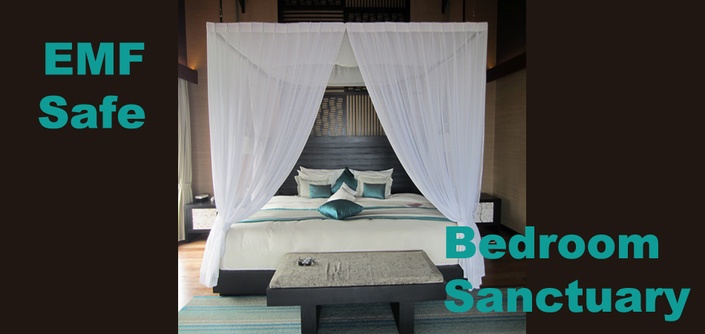 Your EMF Free Bedroom Sanctuary and Sleeping Environment
Creating an EMF Free Sleeping Environment: Strategies, Sheilding Products and Making Your Own Canopy
Watch Promo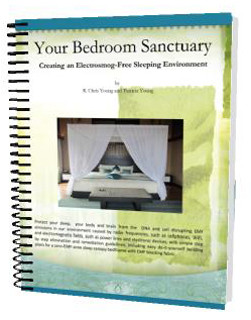 This self-guided course is delivered by printer-friendly eBook pdf for easy future reference
The 148 page training guide in PDF format Includes 4 videos, EMF worksheets, and Do-It-Yourself Canopy Bedframe building plans for easy draping of EMF-shielding canopy fabric.
No mater how EMF-saturated a home is, with this valuable new 145 page eBook you can reduce EMF levels in your sleep space, giving yourself a respite from relentlessly pervasive EMF and eliminating the rampant cell damage it does, during the most important hours of all – your vital, regenerative sleep time.
Humans evolved in Nature's electromagnetic fields, such as solar energy and gravity, and we are not designed to cope with the constant bombardment of man-made electromagnetic fields, and particularly not at such high levels as we find in today's wireless technology inundated world.
Our modern living environments expose us to EMF levels that pose serious risk to our body/brain function, taking a toll on our health, our sleep, our energy, and every mental, physical, emotional function you can name, by interfering with our well being at the most basic cell level.
Fortunately we can block EMF and protect ourselves from the harm EMF does by disrupting normal cell function to such a large degree, thereby safeguarding our health, our sleep, our bodies and brains. The good news is that we have determined by firsthand experience the most effective methods of detection and protection, which we are sharing here in a new ebook in PDF format.
Your Bedroom Sanctuary: Creating an EMF-Safe Sleeping Environment offers easy to follow Do-It-Yourself instruction
Here is a brief outline of the practical, useful content
you will receive:

· EMF, Your Brain & Your Sleep
· Measuring your Bedroom's EMF Exposure
· Determining Sources & Risks
. Quick EMF Fixes for most common problems
· EMF Remediation Strategies
· Rearranging Room, Lessening and Eliminating EMF
· Blocking EMF Entirely for Safe Sleep Space
· Step by Step Do-It-Yourself Bed Canopy Frame Guide
· EMF Blocking Paint, Fabric & Products and Where to Buy
· Complete How-To Info, with Costs & More
. More EMF Personal Products with Providers Index
· Additional Important Electrosensitivity Solutions
Your Bedroom Sancturary eBook provides illustrated text in addition to easy-to-follow expert video instruction, and a collection of tried-and-true recommended products.
Introducing the DIY Zero-EMF Sleep Sanctuary Canopy Bed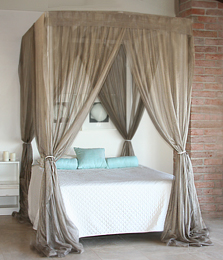 The attractive canopy bed with high performance EMF Blocking fabric and do-it-yourself bed frame shown here in the promo video offers a zero-EMF sleeping space. Sleep Sanctuary eBook includes no-fuss no-stress plans with easy to follow diagrams, construction materials shopping list, EMF shielding fabric comparisons and more.
Instructional videos are included in order to illustrate the construction of the bed frame, choosing the fabric, use of the bed canopy in everyday life and more.
Most importantly we include on video live EMF-Detection Metering inside the canopy upon its completion showing, beyond question, that even inundated with the super high levels of environmental EMF that we were dealing with, a safe Zero-EMF sleep environment can be achieved.

Four Poster Canopy Bedframe Construction Plans

Bed Canopy Bedframe Building Plans and easy how-to instructions will enable you to construct this inexpensive four-poster canopy bed frame structure in an afternoon, using readily available materials, for a total approximate cost of under $70 (canopy-bedframe structure only).
This DYI bed frame is designed for draping your choice of lovely EMF blocking sheer fabrics with no-sew ease for King, Queen, Double, Twin or Baby Crib bed sizes.

NOTE: Fabric is naturally an additional cost and depends on size of bed, the EMF-blocking fabric you select select, and draping fullness desired, etc -- our step by step worksheets make it all easy to figure out.

NOT a Do-It-Yourselfer? No Problem

This handy training guide will also teach you numerous other methods and stragies to lower the EMF exposure levels in your bedroom, and show you the range of other pre-made EMF Shielding Canopy options, ready to hang right out of the box.

Getting a good night sleep in an EMF-Free sleeping environment has just gotten a lot easier. And well within your ability.

Your Instructor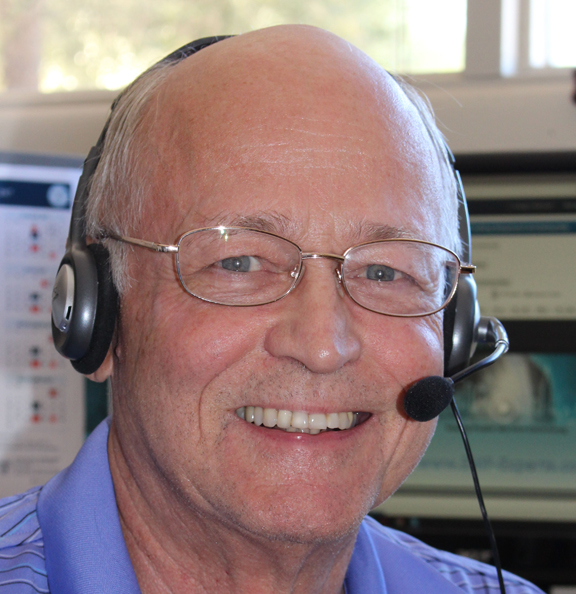 Senior Professional Electrical Engineer
Founder: EMF-Experts.com

I am the Founder of EMF EXPERTS and I personally stand behind each training course that we do here at EMF Experts, where we are dedicated to the highest professional standards in observance of our mission statement and guiding principles. I'm a Professional Electrical Engineer in the USA; at various times in my career I have held professional engineering licenses in nearly every state in the nation and I've also headed up organizations in over 20 countries.

Course Curriculum
Bedroom Sanctuary: Creating Your EMF-Free Sleep Space
Available in days
days after you enroll
Frequently Asked Questions
When does the course start and finish?
The course starts now and ends when you request your Award of Completion (your diploma-looking certificate will be delivered to you online automatically upon request at the end of a course) It is a completely self-paced online course - you decide when you start and when you finish, and you have 4 months to complete reading the course content, viewing the videos and downloading the resource material.
How long do I have access to the course?
After enrolling, you have unlimited access to this course across any and all devices you own for four months. You can enroll in one course at a time, or enroll in several at the same time. If you need longer than the allotted course time to complete the trianing, just bounce us an email with your extension request.
What is You Customer Satisfaction Policy?
We have designed this classroom to enable you to "try before you buy", and that is why we have made several FREE courses available for you to try out our learning platform, to get to know us and experience the quality of our training content. No refunds are offered for paid-for courses once they have been started, however we will work with you to make sure you have an excellent learning experience, and if you need an extension to complete the training due to unforeseen delay, we are happy to accommodate you to provide whatever learning time you need.